Reliable pre-cooling technologies for artificial snow production on display at Interalpin 2019

Interalpin is a must for installers and manufacturers of mountain infrastructure: the biennial fair in Innsbruck (8-10 May) is now at its 23rd edition.
For the technicians of MITA Cooling Technologies, it will be a chance to meet the manufacturers of snowmaking systems from across Europe: we will showcase our pre-cooling technologies to support artificial snow production. Above all, we want to listen to the needs of the supply chain and share our experiences in the field.
To meet us at the Interalpin fair and talk to us: export@mitact.it
1. Why you should come to Interalpin 2019
The alpine technology fair welcomes 650 exhibitors and a much broader audience of installers, engineering firms and mountain systems manufacturers.
The field is rich in players and diverse: the official website describes "the latest products and innovations for the entire cable car industry, for mountain landscape development facilities, for snowmaking and winter road clearing services, for alpine safety and rescue services and for all alpine industries".
At the May 8th appointment MITA will exhibit its key product range: the latest developments for artificial snow production plants.
2. How do to the plants make the snow? The contribution of pre-cooling technologies
Designers and installers know how much the proper operation of snow-making systems also depends (and above all) on its pre-cooling system, often made up of evaporative towers: the link between the supply water basin and the snow-cannons.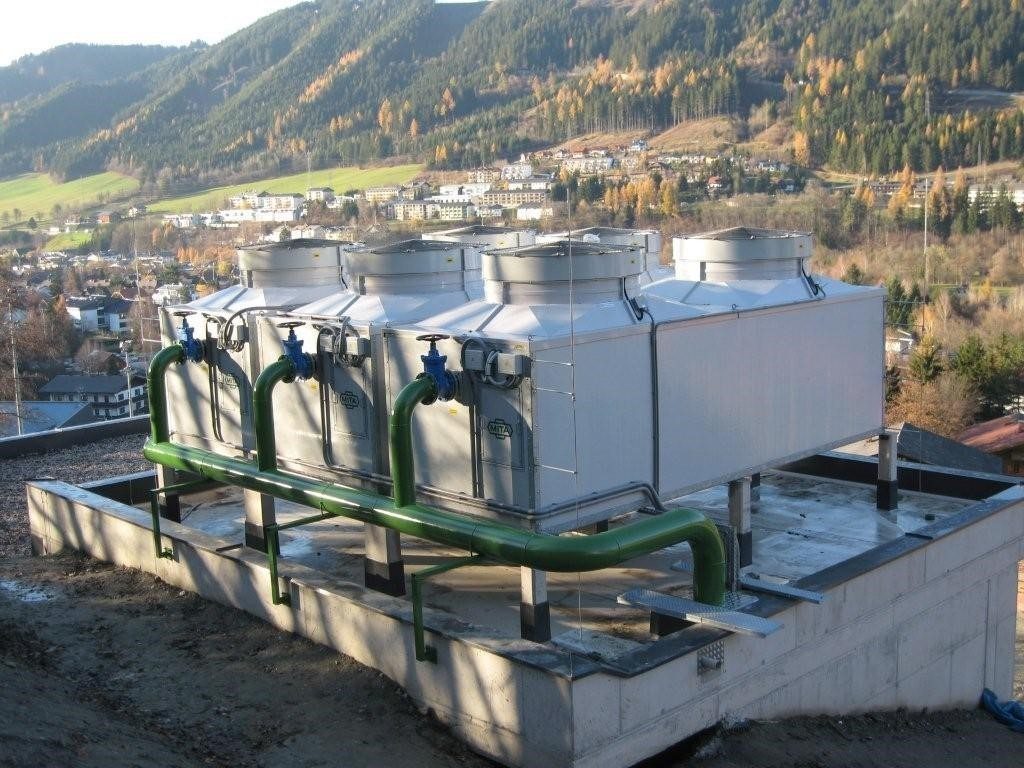 In particular, there two requirements are always submitted to the suppliers of cooling towers: a water output temperature close to freezing and operational continuity ensured at low or very low temperatures. Furthermore, the simplicity of installation and maintenance and the durability of the system can often make the difference.
In this phase, the work of a technical-commercial consultant is essential to adequately size the cooling towers (based on the many parameters required by the designer and installer). As regards the management of temperatures below freezing, a set of technical measures ensure operational continuity: to give some examples, electric resistors around the fan and heaters inside the motor. These are anti-freeze solutions on the two components of the tower that are most sensitive to cold. Furthermore, materials suitable for low temperatures, such as polypropylene, are ideal for system such components such as heat exchange surface and distribution system.
3. At Interalpin, MITA's experience on reliable and durable systems
MITA Cooling Technologies has also leveraged two key features for minimum maintenance and durability of all its systems: fibreglass structures, non-corroding material; and installation of large doors to easily inspect and maintain the cooling towers. The company adopts these in all the equipment supplied to snow-making systems: from Europe (Italy, Austria, Switzerland and Germany) to Japan. Of course, in many of these cases, the machines needed to be "containerizable" to facilitate their transport over long distances: for this reason, the towers needed to not exceed the standard width of 220 cm.
Experience is also, as in other cases, particularly important: MITA Cooling Technologies has installed about 30 thousand machines in its 60 years in business. An experience lived as a responsibility: as much to guarantee performance, as in the proper ordinary management and safety of the systems installed.
Featured image: mounting from Wikipedia Commons.
Newsletter
Subscribe to MITA newsletter and stay updated on technical solutions for industrial and civil cooling and get to know our offer.