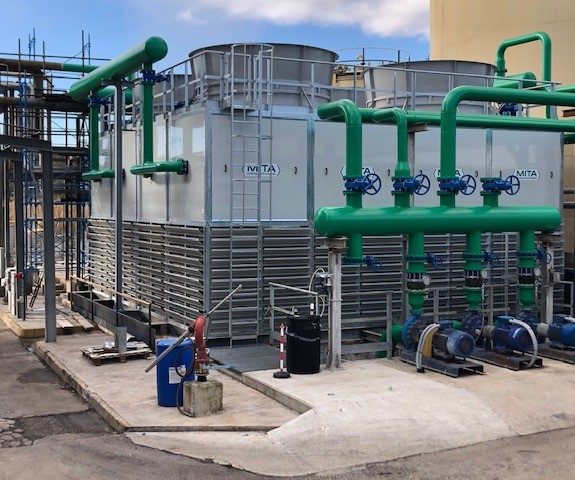 PMM Modular Cooling Tower
for Large Industrial Plants
This is a series of large industrial cooling towers for power generation, steel and aluminium processing, cogeneration and other large production sites. Efficiency, high performance, reduced installation and transport costs are granted.
Compact design and easy transport. Pre-assembled components to minimize installation time and cost.
Reduced field installation time and cost. While being positioned in the range of large industrial plant coolers, PMM installation time is very short.
High efficiency. Provided by evaporative technology in combination with axial fans.
Efficiency and optimal resourse use. MITA solutions are selected through advanced software in order to fit the plant characteristics.
Quick pay-back. Pre-selection performed together with the client, based on their project requirement.
Industry 4.0. Possibility of control, monitoring and data collection on company management system.
How it Works
The PMM modular cooling tower consists of components pre-assembled in the factory and transportable by container: the aim is easy remote transport to minimise costs. High efficiency due to the principle of evaporative cooling.
All PMM series cooling towers are assembled with different heat exchange fill packs selected according to the type of water to be cooled and the customer's needs.
The fill packs used by MITA (internally tested in the own test station) are composed of self-extinguishing PVC sheets or thermoformed PP, available with different geometries depending on the characteristics of water.
Ask for Information
Technical Specifications
Axial fan motor system with reduction gear, low installed power, low noise levels.

Motors with IP56 protection.

Capacity from 2.6 to 14 MW.
Ask for a Quote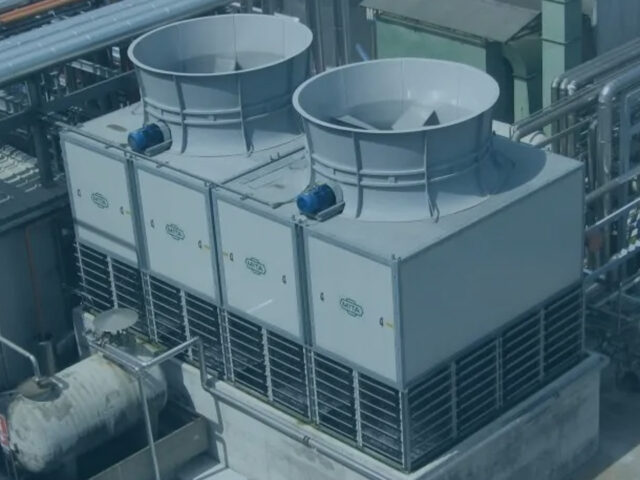 Environmental and economic sustainability of PMM modular cooling tower
Use of water for efficient heat transfer (i.e., cooling of the process fluid).
Low and further optimizable energy use.
Extremely small installation spaces.
Falls within the product categories that MITA is able to regenerate.
Indication of "carbon footprint" from the MITA team.
Learn more about the sustainability of MITA cooling solutions
Tools to help you choose
First goal: ask the right questions to the customer and involve him selecting the best cooler. We have been doing this since 1960.
Preliminary plant evaluation
The visit to the plant is a fundamental moment to find the right information on your needs, together with your technicians and the engineering firms involved.
Complete range of coolers and chillers, dozens of variants for each type, solutions for each application and important customizations: MITA's design is truly tailor-made.