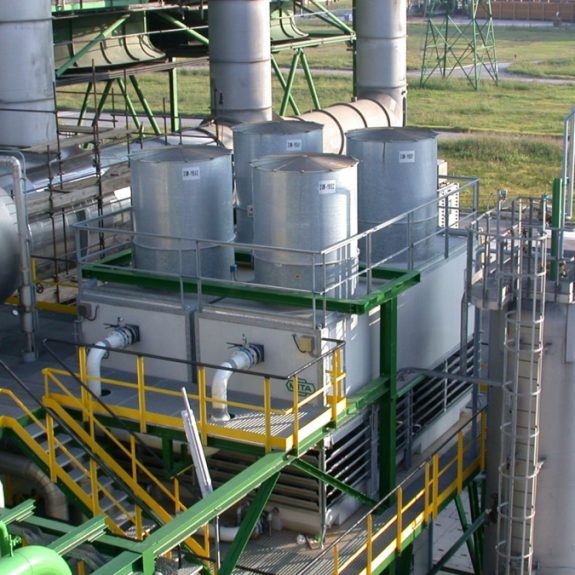 Industrial Plants
Foundries, food industries, oil & gas companies all have a double need: their plant managers, and the technical offices that assist them, want to rely on high-performance, consumption optimizing and easy-to-maintain cooling technologies. Nowadays, compliance with the parameters of industry 4.0 is a plus: remote control, alarm management, big data for predictive maintenance.
Installation Context Industrial waste water, Metal works, Plastic industry, Oil and Gas.
Requirements Low consumption, Continuity of operation, Remote control, Efficiency, Low noise.





Overview of Cooling Technologies Adiabatic dry coolers, Industrial process coolers, Remote control systems, Open and closed circuit cooling towers.




Cooling technologies for an industrial plant: where to start?
If you are looking for cooling technologies for an industrial plant, you need to start with a number of questions, which you can of course discuss with your cooling consultant.
What fluid do you need to cool? Water, gas, other fluid?
What kind of plant is it? Food, metallurgical, energy…
Combined with what other industrial machinery? Chiller, compressor …
What is the main point of attention? Performance, savings, footprint, …
What is your latitude? Wet and dry bulb…
What output temperature do you want (apart from latitude)?
What measures do you need to consider?
What is the size of your system (and your future cooler)?
What logistical aspects should you consider?
What services do you need? Total water management, remote management, spare parts, …?
What level of maintenance do you need?
Does the supplier you choose have good references?
… The other questions are asked by a (good) cooling consultant!
Contact Us for More Information
Tools to help you choose
First goal: ask the right questions to the customer and involve him selecting the best cooler. We have been doing this since 1960.
Preliminary plant evaluation
The visit to the plant is a fundamental moment to find the right information on your needs, together with your technicians and the engineering firms involved.
Complete range of coolers and chillers, dozens of variants for each type, solutions for each application and important customizations: MITA's design is truly tailor-made.