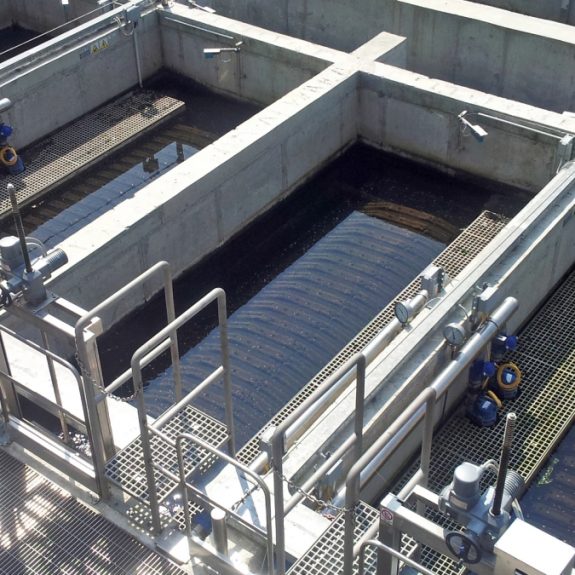 Cooling Technologies for Industrial Wastewater
The different phases of the industrial water treatment process require defined cooling temperatures in accordance with regulations. In this sector, it is preferable to use cooling towers with anti-clogging fill packs for industrial contaminated water.
Installation Context Chemical and pharmaceutical, food industry, tannery, metal works.
Requirements dirty waters handling, long life, high water flow rates, circumscribed output temperatures.
Overview of Cooling Technologies open cooling towers for dirty waters applications.
Cooling technologies for industrial wastewater: an example of a process
A plant with industrial extruders is an example of a process involving the cooling of wastewater.
Thanks to the cooling of the process water, achieved through the use of evaporative towers, the operation of the extruders is optimally regulated; the installed electrical power is limited, since the absorption of each individual tower, with axial fan, is half that of a centrifugal tower of equal power. These results are the result of very low internal pressure drops and the use of low-speed, high-efficiency helical fans.
The models installed by MITA have a low noise impact; the corrosion-resistant materials used guarantee perfect efficiency and long life of the towers; the presence of removable side walls also simplifies maintenance activities.
Ask for Information
Tools to help you choose
First goal: ask the right questions to the customer and involve him selecting the best cooler. We have been doing this since 1960.
Preliminary plant evaluation
The visit to the plant is a fundamental moment to find the right information on your needs, together with your technicians and the engineering firms involved.
Complete range of coolers and chillers, dozens of variants for each type, solutions for each application and important customizations: MITA's design is truly tailor-made.
Newsletter
Subscribe to MITA newsletter and stay updated on technical solutions for industrial and civil cooling and get to know our offer.