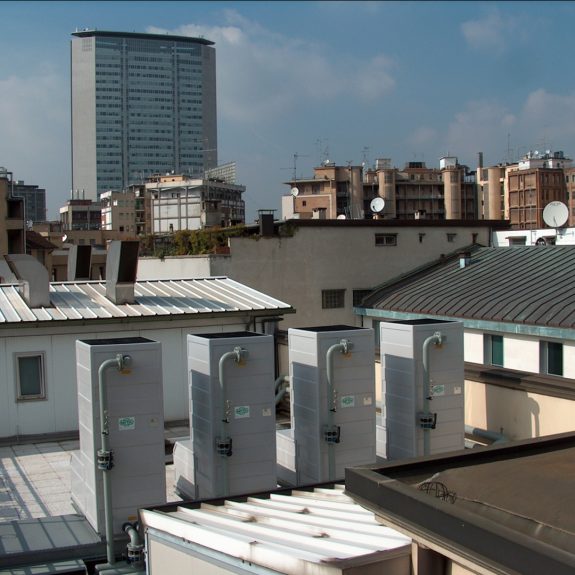 HVAC
Resource savings and very low noise are among the most required features in cooling units connected to HVAC systems: both adiabatic coolers and cooling towers can meet these requirements. Another point of attention are the versatile configurations required for indoor installations or on building roofs.
Installation Context: civil building and offices, hospitals, schools, theaters.




Requirements: flexible configurations, low resource use, low noise.



Overview of Cooling Technologies: adiabatic coolers, cooling towers with centrifugal fan, "Silent" version cooling towers.
Cooling Technologies for HVAC at a Glance
The cold production process, regardless of whether it is for air conditioning or industrial refrigeration, is based on the classic refrigeration cycle in which a fluid (refrigerant) that evaporates absorbs the heat from the bodies surrounding it.
A refrigerating circuit essentially consists of a section where the refrigerant  fluid evaporates producing cold (evaporator), a "pump" or compressor that aspirates the gas and compresses it, sending it to a section where it is  cooled and condensed  (condenser), and finally a component that regulates the passage of the liquid  in the gassing zone (expansion valve).
Ask for More Information
Tools to help you choose
First goal: ask the right questions to the customer and involve him selecting the best cooler. We have been doing this since 1960.
Preliminary plant evaluation
The visit to the plant is a fundamental moment to find the right information on your needs, together with your technicians and the engineering firms involved.
Complete range of coolers and chillers, dozens of variants for each type, solutions for each application and important customizations: MITA's design is truly tailor-made.