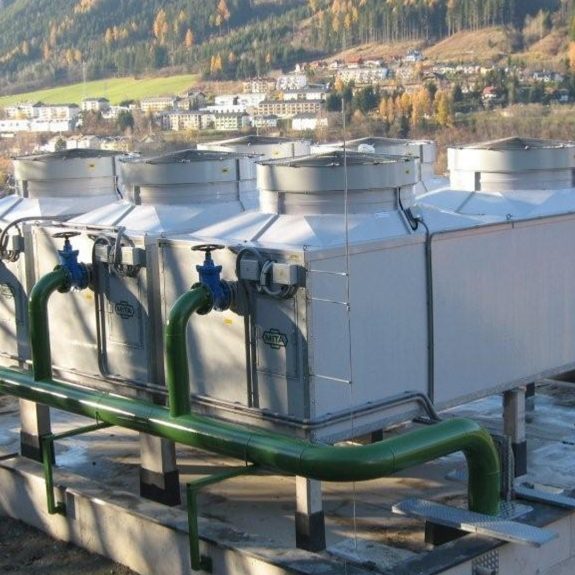 Snowmaking Plants
Cooling towers in snowmaking plants are generally used for water pre-cooling for snow cannons: high water flows, high performance and low noise levels are the most frequent requirements. A limited visual impact is often a plus.
Installation Context Water pre-cooling for snow making applications.
Requirements continuity of operation, efficiency, low visual impact, high water flow rates.

Overview of Cooling Technologies remote control systems, open circuit cooling towers.
Cooling Technologies for Snow Cannons at a Glance
Cooling technologies for artificial snowmaking systems (usually evaporative cooling towers) are usually a "hinge" between the supply water basin and the snow cannons.
Some requirements are made by plant managers and engineering firms:
high performance,

outgoing water close to zero degrees,

operational continuity at low or very low temperatures.
Simplicity of installation and maintenance and the durability of the system are also often appreciated.
Ask for more information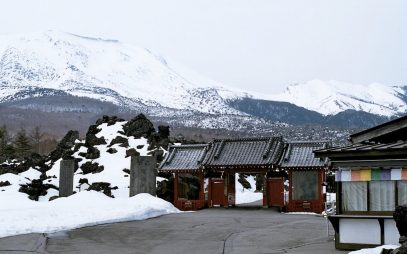 Having installed many artificial snow plants in the Alps, supplied an open circuit tower for a ski facility in Japan (prefecture of Gunma). The machinery was chosen by Sufag, which handled the engineering and snow production part of the plant.
Learn More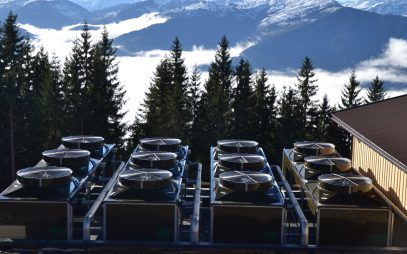 Tools to help you choose
First goal: ask the right questions to the customer and involve him selecting the best cooler. We have been doing this since 1960.
Preliminary plant evaluation
The visit to the plant is a fundamental moment to find the right information on your needs, together with your technicians and the engineering firms involved.
Complete range of coolers and chillers, dozens of variants for each type, solutions for each application and important customizations: MITA's design is truly tailor-made.