Alchemist Adiabatic Subcooler
to Improve the Efficiency in Commercial and Industrial Refrigeration
Performance, savings and environmental sustainability thanks to a patented Plug & Play subcooler for refrigeration systems working with R744 (CO2) and fluorinated refrigerants (HCFC, HFC, HFO).
Efficiency increase with "green" refrigerants. Thanks to the combination between adiabatic cooling and subcooling of the refrigerating fluid.
Automatic operations. Intelligent regulation of fans and dampening cycles.
Compact and integrable design. Simple and easily integrated into existing systems.
Efficiency and optimal resource use. MITA solutions are selected through advanced software in order to fit the plant characteristics.
Quick pay-back. Pre-selection performed together with the client, based on their project requirement.
Industry 4.0. Possibility of control, monitoring and data collection on company management system.
How it Works
The Alchemist adiabatic subcooler is a plug & play solution that can be easily integrated into existing chillers. MITA Cooling Technologies patent.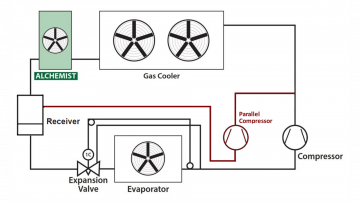 Alchemist combines the adiabatic cooling principle with refrigerant fluid subcooling to increase system efficiency. It is installed downstream of the condenser and/or gas cooler.
Dry operation: external air is drawn in and conveyed onto the finned coils. The humidification process is deactivated, no water is present and the humidifier pack is dry.
The subcooling readings by temperature probes modulate fan speed to optimise power use.
Adiabatic operation: external air is drawn in and passed through the humidifier pack (protected inside the machine). The adiabatically cooled air (therefore at a lower temperature than the external air) is conveyed to the finned coils thus increasing the frigorific fluid subcooling. The subcooling readings by temperature probes modulate fan speed and adiabatic cycles to minimise power/water use.
Patent MITA 17194148.7.
Ask for Information
Technical Features
Savings in electricity compared to systems with only gas coolers.
Water saving compared to the solution with only adiabatic gas cooler.
All models are completely preassembled and equipped with an electrical panel (PLC that allows continuous optimization).
Easy installation even in existing systems (retrofit).
Each machine is accessible for inspections and maintenance of internal parts.
EC plug fan.
Finned coil.
Humidifier pack with high water retention capacity made of flocked PVC (very short wetting cycles).
Ask for a Quote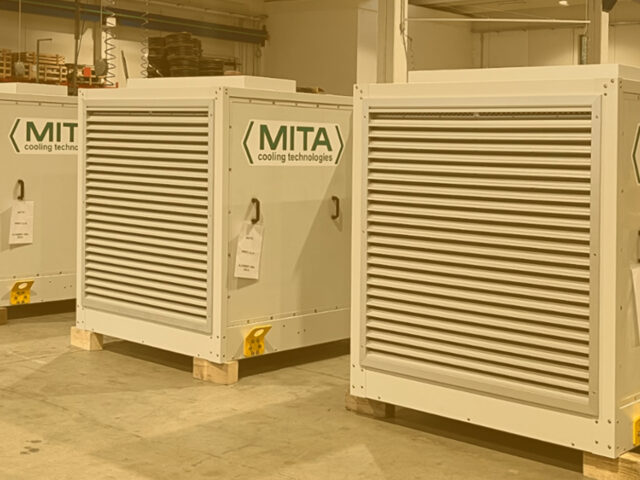 Environmental and economic sustainability of each MITA adiabatic subcooler
Minimal use of water (only for adiabatic operation), useful for facilitating heat transfer (i.e., cooling of the process fluid).
Optimized energy use (higher efficiency due to adiabatic supply).
Falls within the product categories that MITA is able to regenerate.
Indication of "carbon footprint" from the MITA team.
Learn more about the sustainability of MITA cooling solutions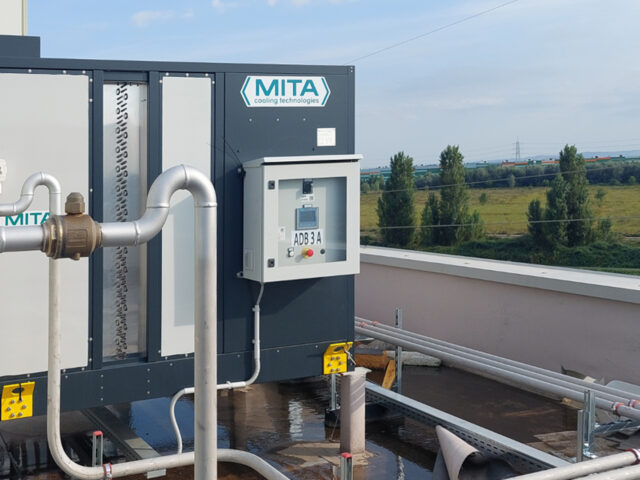 Adiabatic Subcoolers in Supermarkets in Northern Italy
Sustainability without loss of performance: this was the challenge of a large-scale retail player with many supermarkets in northern Italy to which MITA supplied several Alchemist adiabatic subcoolers.
Learn More
Tools to help you choose
First goal: ask the right questions to the customer and involve him selecting the best cooler. We have been doing this since 1960.
Preliminary plant evaluation
The visit to the plant is a fundamental moment to find the right information on your needs, together with your technicians and the engineering firms involved.
Complete range of coolers and chillers, dozens of variants for each type, solutions for each application and important customizations: MITA's design is truly tailor-made.