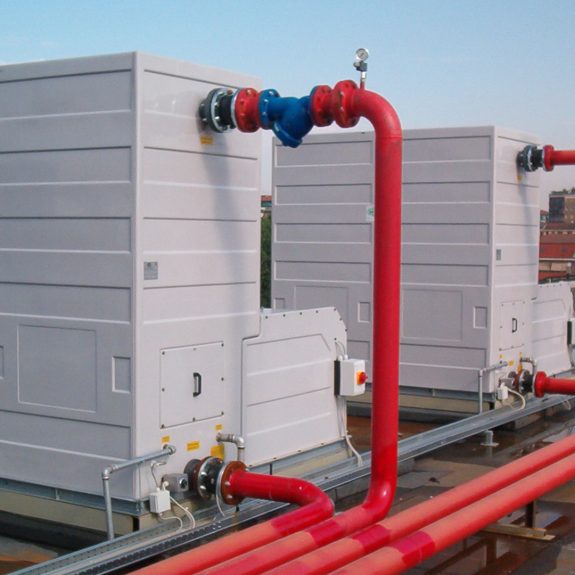 MCT Open-Circuit Evaporative Cooling Tower
with centrifugal fans also with electronic commutation
Compact design and reduced dimensions: a range of evaporative cooling towers with centrifugal fans for special space configurations. MCT-EC version available with electronically controlled fans.
Indoor application. Centrifugal fan can better suit different layouts.
Reduced dimensions. Ideal for confined spaces or indoor.
Corrosion free. Extensive use of fiberglass components.
Efficiency and optimal resourse use. MITA solutions are selected through advanced software in order to fit the plant characteristics.
Industry 4.0. Possibility of control, monitoring and data collection on company management system.
Electronic Control. MCT-EC version available with electronically controlled fans.
How it Works
The MCT open circuit evaporative tower uses the same principle as the PMS and PME-E cooling towers, with the possibility of working in special spatial configurations thanks to the centrifugal fans. It consists of a self-supporting structure made of corrosion-proof fibreglass, including the water collection basin.
The evaporative cooling towers of this series are predominantly employed in air conditioning and refrigeration installations, but also industrial applications with significant low noise criteria are not to be excluded. Just as for all the other MITA series produced for industrial use, it is therefore possible to have MCT towers in the high temperature (ATT) version, that for partially dirty water (N) and that for very dirty water (GS), as well as combined versions.
Ask for Information
Do you need information?
Ask for information
Technical Specifications
Tower body and tank entirely made of fibreglass, corrosion-free material.
Fill pack in PVC or PP with a high heat exchange surface.
Distribution system in PVC or PP equipped with wide non-clogging PP spray nozzles.
Centrifugal motor-fan with transmission belt, low noise levels (option with EC plug fan).
Air inlet and outlet silencers available. Capacity: from 28 kW to 1.5MW (indicative capacity referring to a machine, thermal gradient 5°C).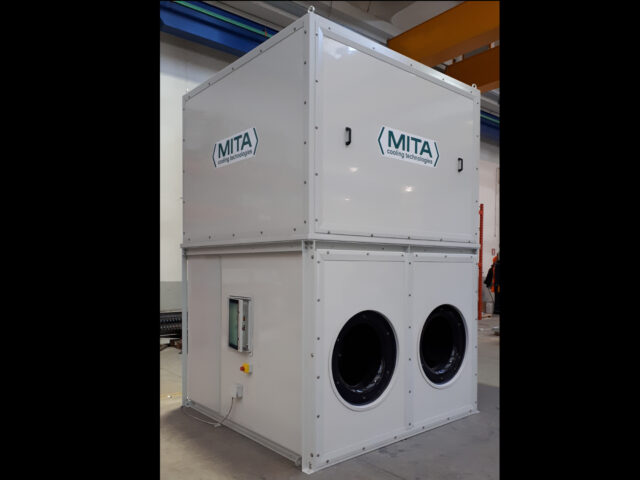 Version: MCT-EC Open-Circuit Evaporative Cooling Tower with EC Plug Fan
Efficient EC fans
Non corroding FRP
Very low noise
Full and simple access for maintenance
Sound absorbing silencers as an optional
Possibility of indoor installations
Environmental and economic sustainability of MCT cooling tower with centrifugal fans
Use of water for efficient heat transfer (i.e., cooling of the process fluid).
Low and further optimizable energy use.
Extremely small installation spaces.
Falls within the product categories that MITA is able to regenerate.
Indication of "carbon footprint" from the MITA team.
Learn more about the sustainability of MITA cooling solutions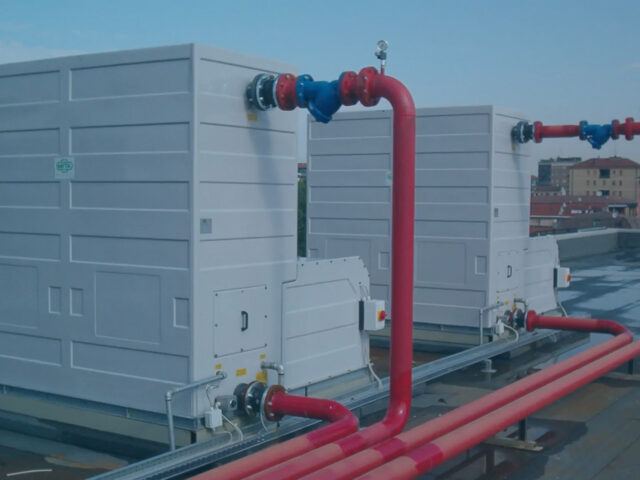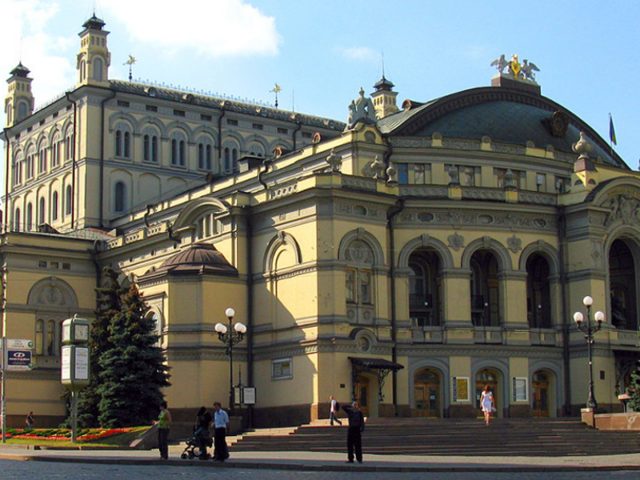 A Made-in-Italy Cooling Tower in the National Opera of Ukraine
In 2019, an MCT cooling tower solution with centrifugal fans was provided to meet the air conditioning needs of a conservation room at the Kiev National Opera House.
Learn More
Tools to help you choose
First goal: ask the right questions to the customer and involve him selecting the best cooler. We have been doing this since 1960.
Preliminary plant evaluation
The visit to the plant is a fundamental moment to find the right information on your needs, together with your technicians and the engineering firms involved.
Complete range of coolers and chillers, dozens of variants for each type, solutions for each application and important customizations: MITA's design is truly tailor-made.
Newsletter
Subscribe to MITA newsletter and stay updated on technical solutions for industrial and civil cooling and get to know our offer.