Alchemist at ATMOsphere 2018

2018 November
Sustainable technology and performance improvement: from 19 to 21 November, MITA Cooling Technologies has brought this concept to ATMOsphere Europe 2018 – Business Case for Natural Refrigerants (Lake Garda).
Since 2009, ATMOsphere has offered an opportunity to exchange knowledge and technologies about natural refrigerants. The goal is to facilitate networking among manufacturers, potential customers and industry experts, through discussions, presentations, workshops and business meetings. MITA Cooling Technologies has used the event to talk about its Alchemist sub-cooler, a technology that improves the efficiency of the refrigeration systems.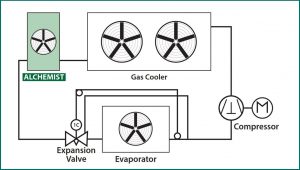 "We offer simple and innovative solutions in the refrigeration sector, as well as in industry", says Tommaso Fontana, Sales Manager at MITA Cooling Technologies. "We apply our patented adiabatic system to sub-cool the refrigeration circuit refrigerant, in order to reduce power consumption and increase efficiency."
The presentation of Alchemist will begin from this need to optimise energy efficiency in commercial refrigeration. Giovanni Costantino, MITA's R&D Manager, says: "In ATMOshere 2018 we have explained how it is possible to reduce energy consumption in systems that use R744  as a natural refrigerant. Connected downstream of the Gas Cooler, Alchemist makes for greater effectiveness than systems that do not adopt such a solution.
Now in its 9th edition, ATMOsphere has held 52 conferences in 26 international locations (including Europe, Japan, China, Australia and America). So far nearly 9,500 refrigeration experts have attended its 1,440 presentations. This is the event's website.
Newsletter
Subscribe to MITA newsletter and stay updated on technical solutions for industrial and civil cooling and get to know our offer.