Adiabatic Cooling: one Eye on Efficiency, the Other on Reliability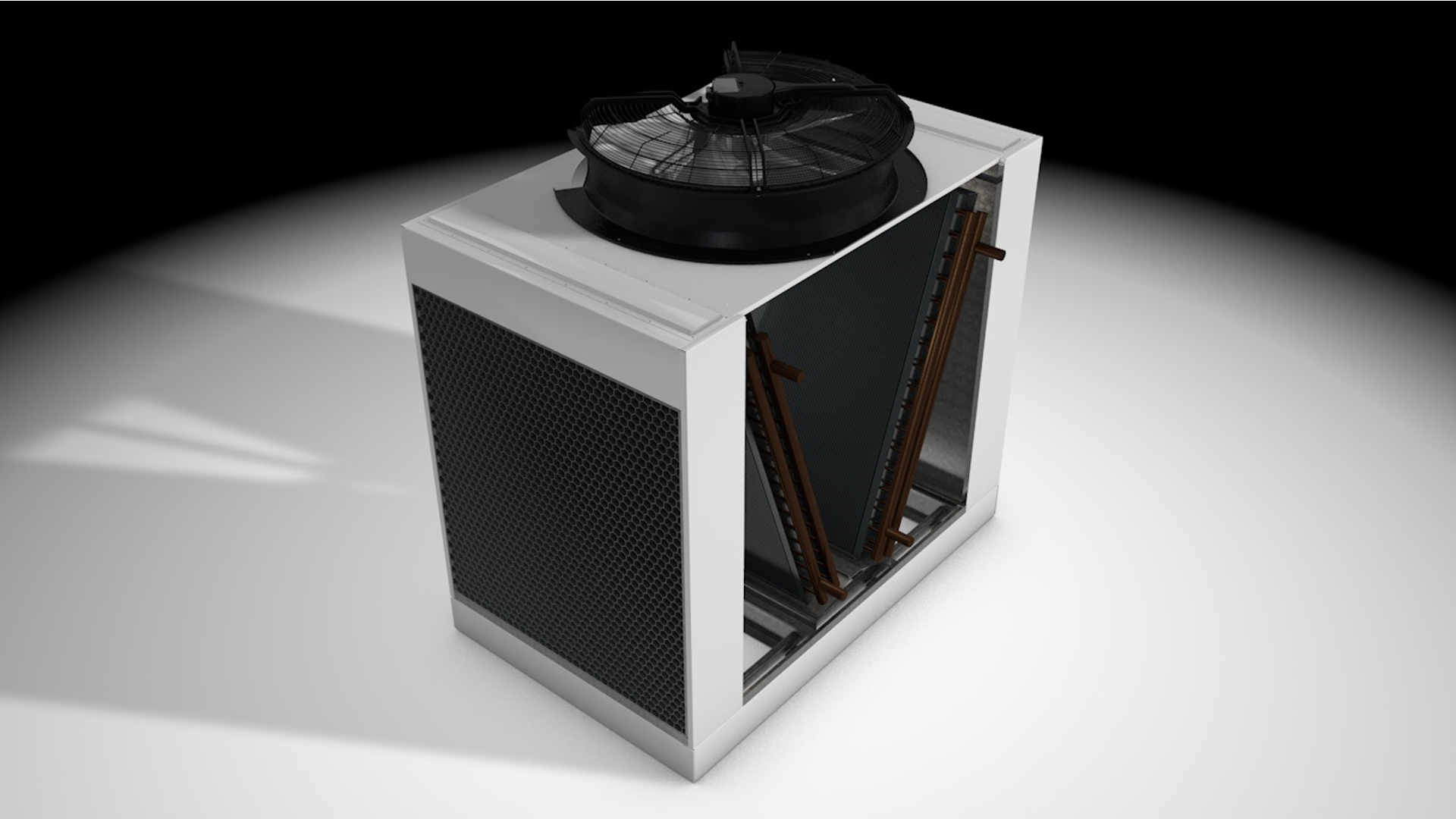 Low operating temperatures and high COP, even in the hottest periods. A couple of reasons to consider an adiabatic cooling system, especially if you also want to reduce water use and its management tasks.
The PAD-V adiabatic cooler & condenser combines these needs by taking advantage of some elements of MITA Cooling Technologies' experience in the field of evaporative cooling: simplicity of use, efficiency and reliability over time.
1. The PAD-V Adiabatic Cooler and Condenser
PAD-V's dual operating principle exploits the various external environmental conditions throughout the year (temperature probes control its operation):
during cold periods, the cooling air is directed onto the finned coils that contain the fluid to be cooled (dry operation);
in the hottest periods, very short wetting cycles spray a specific section to lower the temperature of the air that flows through the finned heat exchangers (adiabatic operation).
Systems based on this dual principle are often called adiabatic dry coolers. With an advantage over other solutions: PAD-V is a machine that is easy to operate over time.
2. Ease of maintenance and durability
Two basic principles inspire PAD-V's design: ease of maintenance and durability. Its wide side doors facilitate inspection and maintenance operations of its internal components, which are also designed to last: the finned coils are not in contact with the wetting water.
Another example is the adiabatic flocked PVC pack, used for cooling the outside air, which has a much longer average life compared to other classic cellulose systems. The external PVC panels provide additional protection against light and dust.
Efficiency, maintainability and durability: these are characteristics that end-users of MITA adiabatic systems often appreciate in many different applications: from air conditioning systems to the process industry. Some recent examples of this are the installation of PAD-V in a hospital, in a spa, and in a plastic processing plant.
3. The adiabatic systems of MITA Cooling Technologies
PAD-V is the evolution of the PAD adiabatic cooler/condenser, suitable for large systems and already installed in one of Europe'smost advanced electricity grid research centers.
We also use the adiabatic principle in our patented Alchemist solution: the refrigerant in supermarket refrigeration units is subcooled to increase the circuit's efficiency.
Find out more about MITA adiabatic cooling systems.
Newsletter
Subscribe to MITA newsletter and stay updated on technical solutions for industrial and civil cooling and get to know our offer.