PAD-V Adiabatic Cooler
To Cool Liquids
Ideal for water saving maintaining a high efficiency. All operations are managed by PLC with the possibility of remote management in "Industry 4.0" mode. Suitable for both industrial and HVAC fields of application.
Minimum use of resources. Short wetting cycles only in some seasons, adjustable fan speed for energy saving.
Automatic operations. Intelligent regulation of fans and dampening cycles.
Compact and integrable design. Simple and easily integrated into existing systems.
Efficiency and optimal resourse use. MITA solutions are selected through advanced software in order to fit the plant characteristics.
Quick pay-back. Pre-selection performed together with the client, based on their project requirement.
Industry 4.0. Possibility of control, monitoring and data collection on company management system.
How it Works
The adiabatic cooler, sometimes called adiabatic dry cooler or dry cooler with adiabatic pre-coolers, is designed to work with both air and water, with particular attention to efficiency.
The external air is used to cool the liquid during dry operation and it is pre-cooled only in hot periods with wetting cycles of about 15 seconds during adiabatic operation ("adiabatic pre-cooling").
MITA Patent 2 206 980 B1.
Ask for Information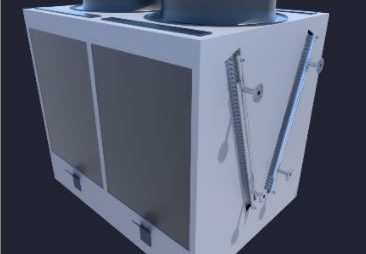 BIM Files
Download PAD-V on Skeinforce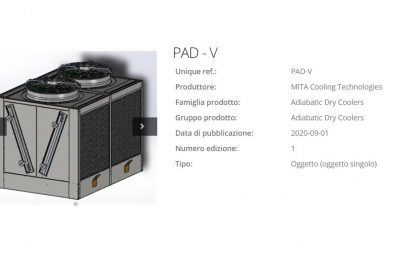 BIM Files
Download PAD-V on BIM Objects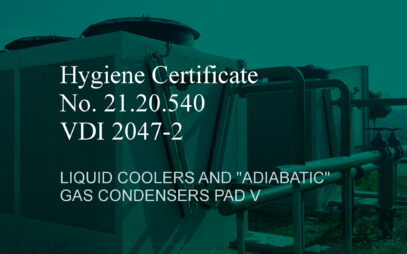 VDI Hygiene Certification
Download the document issued by Neridion
Technical features
Models completely preassembled and equipped with an electrical panel (PLC that allows continuous optimization).
Humidifier pack with high water retention capacity in flocked PVC (very short wetting cycles).
Adiabatic circuit, protected inside, designed to recover water without requiring treatment.
Double V coils (PAD-V series). EC fans for low electrical use and noise.
Support carpentry made of press-folded galvanized sheet metal and subsequently protected by an epoxy paint cycle.
Each machine can be equipped with accesses for inspections and maintenance of internal parts.
No risk of Legionella and aerosol.
Capacity from 75 to 1,100 kW.
Ask for a Quote
New PAD (adiabatic cooler) for low water flow rates
The optimization of adiabatic cooling even for low flow rates and thermal capacities (less than 100 kW).
Perfect resource management thanks to standard PLC and electronically controlled fan.
 Small footprint: adaptable system for tight spaces.
Very low noise levels.
Complete and easy access for maintenance.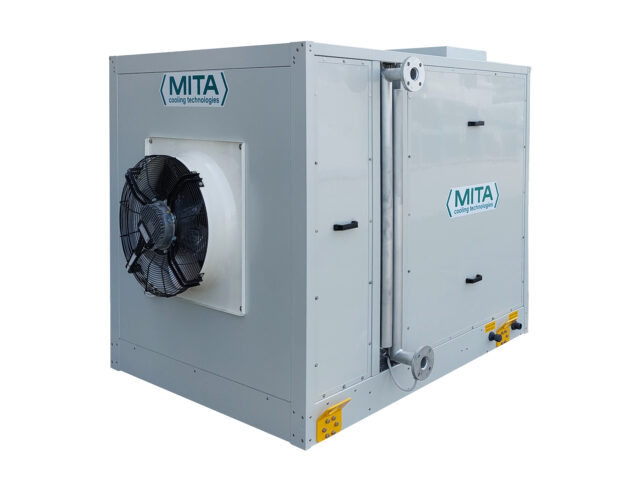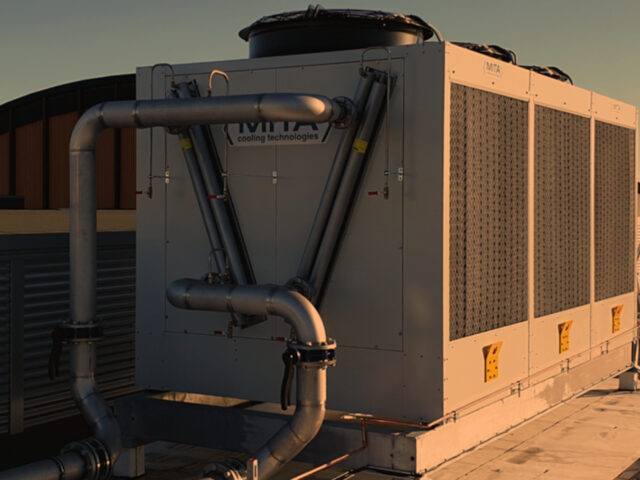 Environmental and economic sustainability of PAD-V adiabatic cooler
Minimal use of water (only for adiabatic operation), useful for facilitating heat transfer (i.e., cooling of the process fluid).
Optimized energy use (higher efficiency due to adiabatic supply).
Smaller installation spaces compared to the 100% air solution.
Falls within the product categories that MITA is able to regenerate.
Indication of "carbon footprint" from the MITA team.
Learn more about the sustainability of MITA cooling solutions
Downloads
First goal: ask the right questions to the customer and involve him selecting the best cooler. We have been doing this since 1960.
Preliminary plant evaluation
The visit to the plant is a fundamental moment to find the right information on your needs, together with your technicians and the engineering firms involved.
Complete range of coolers and chillers, dozens of variants for each type, solutions for each application and important customizations: MITA's design is truly tailor-made.
Newsletter
Subscribe to MITA newsletter and stay updated on technical solutions for industrial and civil cooling and get to know our offer.