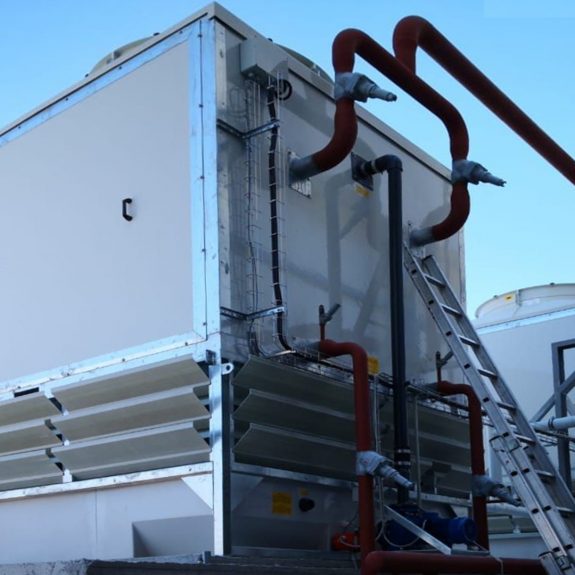 MCE Industrial Condenser
for Gas Condensing
Compact, efficient and easily accessible: MCE industrial condenser ensures refrigeration operators all the operating standards of its own technology class. The typical MITA evaporative coolers' durability over time is a plus. MCE-EC version available with electronically controlled fans.
Compact refrigeration solution Open circuit cooling tower with condenser, combined in a single unit.
Easy accessibility Completely removable walls for easy and total access to the internal components.
Solution for NH3 Several treated refrigerants including ammonia.
Efficiency and optimal resource use MITA solutions are selecterd trough advanced software in order to fit the plant characteristics.
Industry 4.0 Possibility of control, monitoring and data collection on company management system.
Electronic Control MCE-EC version available with electronically controlled fans.
How it Works
The MCE series evaporative condensers can be employed in air conditioning and industrial refrigeration installations, representing in their operation an alternative to the classical water-cooled condenser with evaporative cooling tower or systems with aircooled finned coils.
The refrigerant gas to be condensed is fed to the upper header of a coil of smooth-surface tubes which, continuously wetted by water appropriately sprayed and in contact with an adequate countercurrent airflow, permits the progressive condensation of the gas.
The gas, thus cooled and condensed to the liquid state, can be returned via the lower header to the installation. Hence the evaporative condenser, in the context of water- cooled condensing systems combines the "open circuit cooling tower condenser" system in a single and compact unit exploiting, inside the unit, the forced evaporation of a small quantity of the recirculating spray water to achieve the heat load rejection which is necessary to condensate the refrigerant gas.
Ask for Information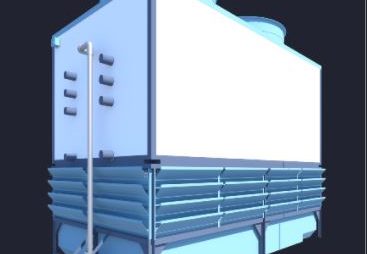 BIM Files
Download MCE on Skeinforce
Technical Features
Axial motor-fan with direct coupling, low installed power, low noise levels (option with EC plug fan).
Motors with IP56 protection.
Body made of 22 mm thick fibreglass sandwich panels.
Support structure in hot dip galvanized steel after fabrication (galvanization process in accordance with UNI EN ISO 1461-99 standard, thickness not inferior to 80 microns).
Distribution system in PVC equipped with wide non-clogging PP spray nozzles.
Certified PP drift eliminators (entrainment 0.01%). Heat exchanger coils made of smooth tubes in hot dip galvanized steel after fabrication, in compliance with PED Directive 2014/68/EU. – Tank with sloping base entirely made of fibreglass.
Each machine can be equipped with accesses for inspections and maintenance of internal parts.
Capacity: from 80 kW to 1.7 MW.
MCE-EC version: axial motor fan system in direct coupling, low installed power, low noise levels.
Ask for Information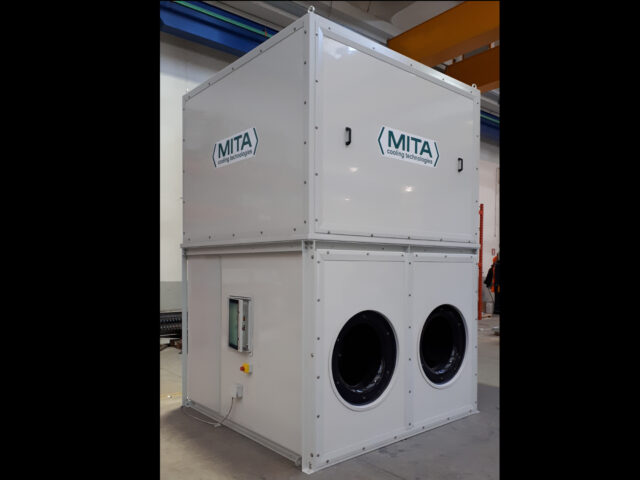 Version: MCE-EC Evaporative Condenser with EC Plug Fan
Efficient EC fans
Non corroding FRP
Very low noise
Full and simple access for maintenance
Sound absorbing silencers as an optional
Possibility of indoor installations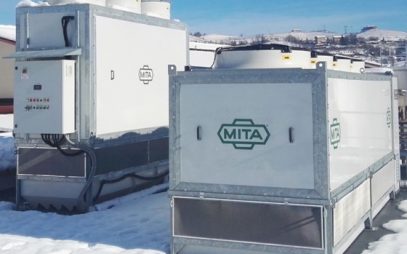 Langhe, a historic area of Piedmont known for its wines and haute cuisine. MITA Cooling Technologies has participated in the modernization of the refrigeration system of a local dairy with two different solutions: the MCE evaporative condenser and the PAD G-C adiabatic gas cooler. Both were required by the project design lead company, the Telos design studio with engineers Claudio Tarsitano and Alessandro Pasini.
Learn More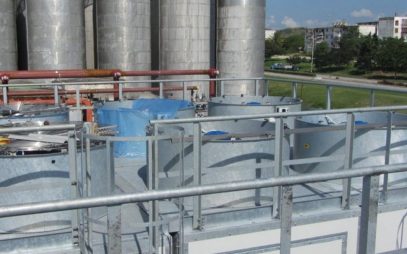 In 2015 a Cuban brewery needed to replace the ammonia condensation system (NH3) attached to the compressors of the refrigeration units: MITA Cooling Technologies installed 6 evaporative condensers, also modernizing the production process.
Learn More
Tools to help you choose
First goal: ask the right questions to the customer and involve him selecting the best cooler. We have been doing this since 1960.
Preliminary plant evaluation
The visit to the plant is a fundamental moment to find the right information on your needs, together with your technicians and the engineering firms involved.
Complete range of coolers and chillers, dozens of variants for each type, solutions for each application and important customizations: MITA's design is truly tailor-made.