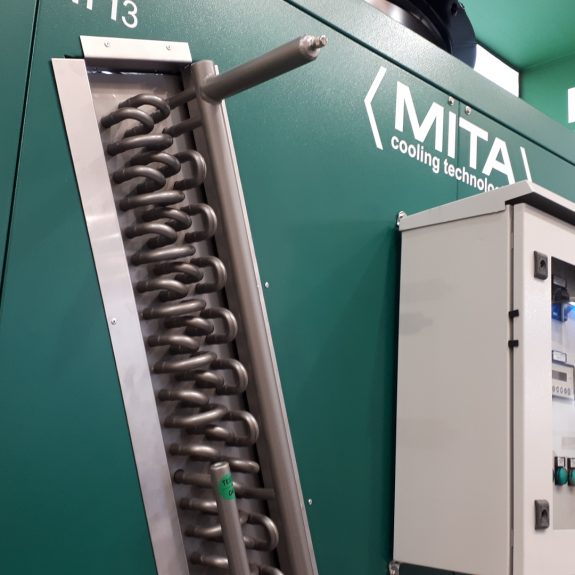 PAD-VR Adiabatic Condenser
for gas condensing
Ideal for water saving maintaining a high efficiency. All operations are managed by PLC with the possibility of remote management in "Industry 4.0" mode. Both HVAC and refrigeration sectors can be served.
Minumum resourse use. Short wetting cycles during the hottest seasons, controlled fan speed.
Automatic operations. Intelligent regulation of fans and dampening cycles.
Compact and integrable design. Simple and easily integrated into existing systems.
Effficiency and optimal resourse use. MITA solutions are selected through advanced software in order to fit the plant characteristics.
Quick pay-back. Pre-selection performed together with the client, based on their project requirement.
Industry 4.0. Possibility of control, monitoring and data collection on company management system.
How it works
The PAD-VR adiabatic condenser follows the same principle as the PAD-V adiabatic dry cooler for liquids: dry operation in cold weather, adiabatic operation in warm weather ("adiabatic pre-cooling").
The PAD-VR machine type is sometimes referred to as "dry condenser with adiabatic pre-coolers" or more rarely as "air-cooled condenser with adiabatic pre-coolers".
MITA Patent 2 206 980 B1.
Ask for a Quote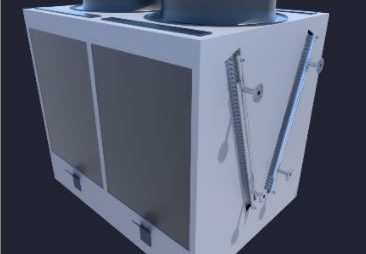 BIM Files
Download PAD-VR on Skeinforce
Technical Features
Models completely preassembled and equipped with an electrical panel (PLC that allows continuous optimization).
Humidifier pack with high water retention capacity in flocked PVC (very short wetting cycles).
Adiabatic circuit, protected inside, designed to recover water without requiring treatment.
Double V coils. EC fans for low electrical use and noise (PAD-V series).
Support carpentry made of press-folded galvanized sheet metal and subsequently protected by an epoxy paint cycle (PAD-V series).
Each machine can be equipped with accesses for inspections and maintenance of internal parts.
No risk of Legionella and aerosol.
Ask for Information
Certification for hygienic compliance to VDI 2047-2
The adiabatic gas condenser PAD-VR has the certification for hygienic compliance with VDI 2047-2: Open recooler systems – Securing hygienically sound operation of evaporative cooling systems issued by Neridion.
The information for the operation of the cooler is then available to plant managers.
See the Certification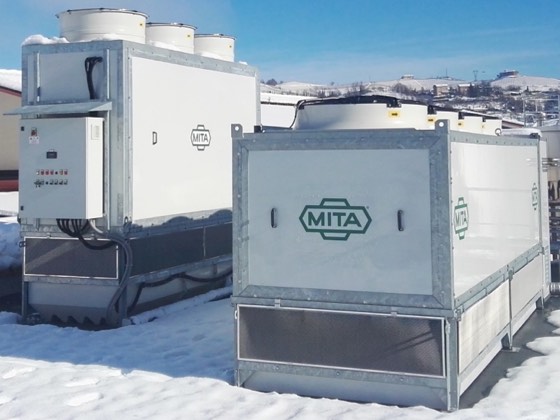 Evaporative and adiabatic condenser for a dairy in the Langhe region
Langhe, a historic area of Piedmont known for its wines and haute cuisine. MITA Cooling Technologies has participated in the modernization of the refrigeration system of a local dairy with two different solutions: the MCE evaporative condenser and the PAD G-C adiabatic gas cooler. Both were required by the project design lead company, the Telos design studio with engineers Claudio Tarsitano and Alessandro Pasini.
Learn More
Tools to help you choose
First goal: ask the right questions to the customer and involve him selecting the best cooler. We have been doing this since 1960.
Preliminary plant evaluation
The visit to the plant is a fundamental moment to find the right information on your needs, together with your technicians and the engineering firms involved.
Complete range of coolers and chillers, dozens of variants for each type, solutions for each application and important customizations: MITA's design is truly tailor-made.