1. The company
In the food & beverage sector, it is important to preserve the quality of the finished product even more than in other industries: therefore, the cooling circuit must play its part. Closed-circuit evaporative towers meet this need better than other solutions.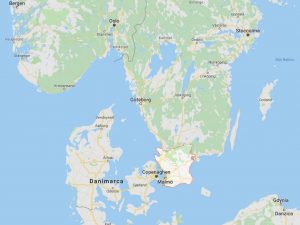 The customer of MITA Cooling Technologies and CAMPreq is a producer of drinks, fruit juices, and ciders. Its historic home in southern Sweden also houses a restaurant and a boutique to sell its products.
This business began in the late 19th century, and it continues to leverage a family-run business: "Fruit-based products continue to be processed on-site thanks to the knowledge accumulated over four generations", the owners proudly affirm.
It is a mission that has a natural ally in the fertility of Scania, a southern region of Sweden with a much milder climate than the rest of the country. The rural landscape encourages the continuation of these gastronomic traditions as well.
2. Cooling requirements
The Swedish customer requested the support of MITA and CAMPreq to complement the bottling phase of its production process: once the bottles are filled with juice, the fluid used to cool them must be recovered. Moreover, it requires a heat exchange process to return to the initial temperature.
The required thermal jump was significant, going from 45 to 22 °C, but with a relatively modest water flow rate required: about 11 m3/h.
A fundamental fact for choosing the best cooler: the fluid comes into contact with sterilized bottles. Therefore, it must retain its purity properties in order not to contaminate the primary circuit.
3. The proposed solution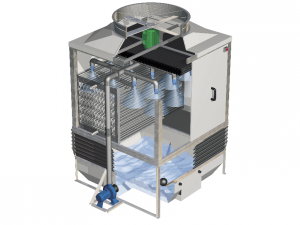 The analysis of the requests led to the choice of a closed-circuit cooling tower, type MCC E3-17 D.
The closed-circuit is the best solution to preserve the quality of the liquid to be cooled: in fact, the latter circulates in a tube bundle and does not come into direct contact with the cooling water of the evaporative tower.
Two features are MITA's signature on evaporative coolers: fiberglass as a non-corroding material and side doors for easy inspection and maintenance of internal components.
All of this is completed by the MITA Control System: namely, the integrated system to modulate the system's performance during its use.
4. Advice and support for choosing
For both MITA Cooling Technologies and CAMPreq, supporting their customers to help them make the best choice is their fundamental mission. Often users do not understand all the details of their requirements: the selection of the appropriate cooler must, therefore, be based on a series of interviews with the end-user and in-depth analysis of the production process.
The case of the Swedish food company was no exception. Output temperature and required times were not clear to the user from the beginning: the on-site support of a CAMPreq engineer was therefore fundamental.