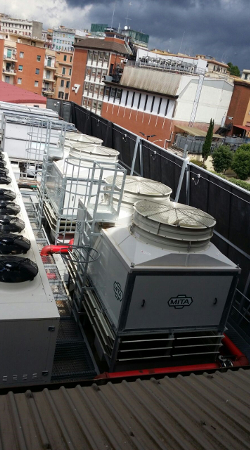 The TV Production Centre (TVPC) in Via Teulada, has just celebrated its 60th anniversary: Italian viewers can remember its light brick building, the old "RAI" logo, and long-running programmes such as Porta a Porta, Chi l'ha visto, La Vita in Diretta (shot in its nine television studios).
Some areas of the building's air conditioning system had to be renovated, particularly the stainless-steel old cooling towers, which have been running for 30 years. So, they needed to be replaced with equipment that was:
quiet (given that the building is in an urban area)
efficient,
compact,
durable (anti-corrosion equipment).
Retaining the support structure in the inner courtyard was also a critical factor.
Thanks to the lightness of some non-metallic materials, the design studio, in partnership with Amedeo Scardini SaS, decided on the installation of fibreglass towers by MITA Cooling Technologies.
Two PME-E 4103 CW Silent open-circuit cooling towers were therefore installed in the courtyard of RAI at Via Teulada 66. The low level of noise comes courtesy of low rpm motors coupled to fans with special profile blades.
This solution's technical specifications will also address additional needs:
fully opening partitions to allow a wide access to the internal parts, access stairs to the upper part. This is to facilitate routine maintenance;
low power consumption to save on energy.
A point of particular satisfaction: RAI is an internationally famous symbol of Italy, for which MITA Cooling Technologies has supplied a 'made to measure' solution.