The intention was to make a scale change of its business to provide products to the large-scale retail market, focusing on energy efficiency. The system solutions adopted therefore had to support this growth, by offering a system with two refrigeration units, each with different objectives.
It was necessary to provide a first group for the cooling the R1234ze refrigerant.
The second, that is working using transcritical R744, was to recover high quality water at 80°C, to be reused to heat the ageing cells.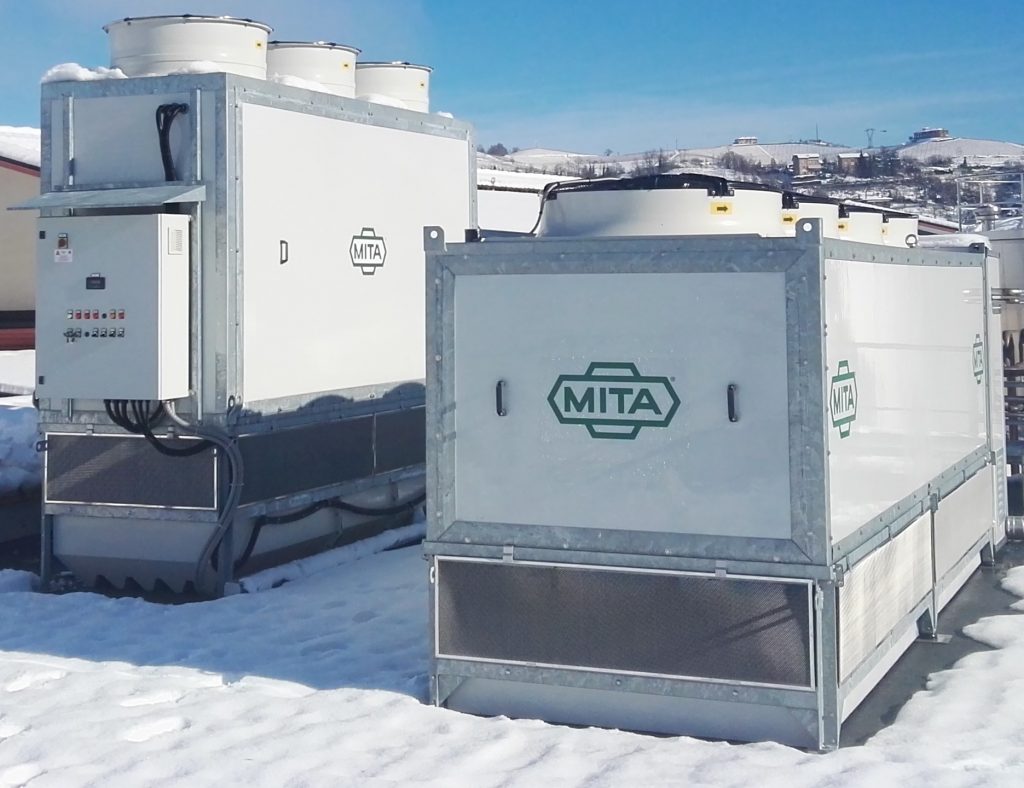 For both contexts, Telos has provided MITA cooling & condensation solutions: one evaporative and one adiabatic. Specifically, the first of the two refrigeration units is now served by the MCE evaporative condenser: a machine that, thanks to the low power installed, offers low energy consumption. The second of the two refrigeration units, that uses transcritical R744, is supported by the PAD G-C gas cooler. Its electrically-controlled fans provide low electricity consumption.
In addition, adiabatic cooling ensures high performance in hot seasons compared to air systems: this was also discussed in the 2018 edition of ATMOsphere Europe.
"With the technical solutions adopted in the transcritical R744 unit, we cover between 80% and 100% of the plant's thermal requirement", says engineer Pasini of Telos, enthusiastically. The MITA Cooling Technologies gas cooler also offers this performance level.
The Telos design studio, which guides its customers from the initial definition of needs through to testing and fine tuning, has been working on the Langhe dairy project since July 2014. It was commissioned in July 2017. Special attention is paid to carefully choosing its equipment. The company clearly states that it prefers solutions that provide high economic and energy efficiency: hence the decision to invest in MITA machines.
Tell Us Your Needs